Banish blue face masks- Welcome Certified Compostable Type 2 Medical Grade face mask
Launching Certified Compostable Medical Grade Facemasks, Eco Green Living brings an everyday essential, required across all walks of life, into the market.  The world's first fully compostable face mask has been developed and meets Type 2 medical grade standards, meaning it can effectively combat Covid-19 as well other viruses.
Every month, an estimated 194 million disposable masks are being used globally because of coronavirus leading to overflowing waste at NHS services and around the world. This is just one example where we're exploiting nature more than she can take.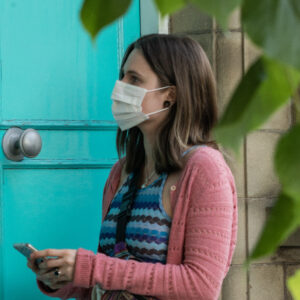 James Cook, director of Eco Green Living said "We have been supplying compostable face masks during the pandemic, but it was vital for us to also supply a Medical grade version to enable individuals and services like the NHS to protect themselves whilst lowering their carbon footprint"
The common disposable masks are made from plastics meaning they will be around for hundreds of years on our planet. The new compostable version complies with the EN13432 standard and will degrade within 6 months of disposal leaving no harmful traces.
These innovative face masks are more than just compostable; they also pass the industry standard for medical procedures. The unique design of these products prevents large particles from reaching a patient's airway, making them perfect in all sorts of medical scenarios. It has passed the EN14683 with flying colours after being tested against tough standards set forth by international health authorities.